WHITE TEA IS THE LEAST PROCESSED AMONG ALL TRUE TEA TYPES.
Tea is a plant that gives us the beverage TEA. Anything that is not steeped from the leaves and buds of the tea plant is not tea in the strictest sense, but a tisane—a herbal infusion.. There are only 6 types of teas which are defined by the process that makes them:
BLACK TEA, GREEN TEA, WHITE TEA, YELLOW TEA, OOLONG, PUERH TEA.
The least processed the leaves are, the highest amount of polyphenols it can retain.
The tea plant has over 30,000 different polyphenols and white tea retains the highest amount of polyphenols since it is the least processed.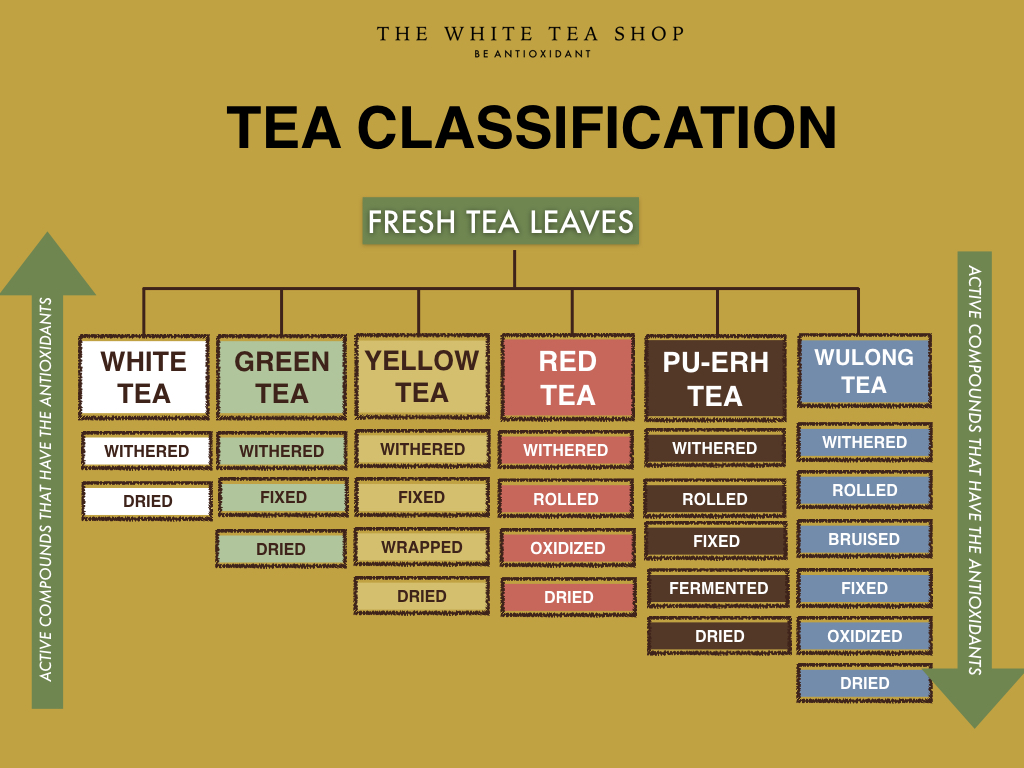 WHITE TEA is produced by just withering and drying the tea leaves.
Any part of the tea plant can be produced as white tea. There are only 4 main varieties of white tea defined by the part of the plants used:
Silver Needles: Made from pure unopened buds. This is the most premium among white tea varieties due to the part of the plant used.
Bai Mu Dan or White Peony: Made from buds and young leaflets that immediately found underneath the buds
Shou Mei: Made from broken, mature leaves and twigs. This is the most common variety of white tea in the market.
Gong Mei: Made from older mature leaves, and small number of buds
*** White tea can be produced from any variant of the tea plant. It can also be produced from any region or country that grows tea. But in choosing good quality white tea and because it is one of the most fragile tea type, you should connect with reputable sources such as The White Tea Shop. Our choices are based on science, not myth, We sourced them out for ourselves first and we share them with you!
WHITE TEA IS THE CLOSEST YOU CAN GET TO THE REAL TEA PLANT.
White tea goes through the simplest but also the most delicate process. It takes many years of practice and special skills to master the art and science of drying tea that can retain the antioxidants, the leaf flavor and the aroma.
Our strategy is to inspire people to embark on an incremental lifestyle change that can bring MASSIVE health benefits in the long term, such as to drink the most natural form of tea - white tea..
WHITE TEA IS VEGETABLE IN LIQUID FORM!
White tea is a plant food. It is a great and easy addition in keeping a healthy diet. When we steep the tea leaves and buds, thousands of different kind of plant compounds are transferred into the water. These compounds are called phytonutrients or plant nutrients which are beneficial to human health.
DRINKING WHITE TEA IS SUSTAINABLE
It is easy to drink and it is also not expensive (if you compare it to the cost of acquiring a metabolic disease). It can also be easily incorporated into one's lifestyle
WHITE TEA IS RICH IN ANTIOXIDANTS
White tea, being the least processed among all true tea types, potentially retains the highest amount of active compounds that can help delay, prevent and manage metabolic disorders, encourage weightloss and prevent pre-mature aging.
WHITE TEA TASTES LIGHT & REFRESHING
White tea is highly regarded by tea lovers because of its pure, light and diluted taste. It will remind you of spring water, sweet, light and refreshing,
But don't forget that this diluted taste comes with natural antioxidants that can help repair damaged cells.
WHITE TEA COMBINES WELL WITH OTHER ANTIOXIDANT-RICH PLANTS
You can mix white tea with your favorite herb and flower to boost its flavour and antioxidant contents.